Program Description
The blended structure of the programme strikes a perfect balance between theory and practical components, providing the flexibility of studying the remote portion of the programme where you want, while continuing to meet your other commitments.
Remote Learning: You will pursue the theory component of the programme by attending online classes with an instructor, who will impart knowledge and training on topics including diamond formation, diamond crystal, diamond and light, diamond mining, diamond market and much more. After enrolling for the programme, you will receive printed course materials delivered to your address and complete your assignments online.
Classroom Learning: This practical component of the programme will be pursued on-campus, where you will get hands-on experience as you physically examine diamond quality characteristics, grade and identify diamonds and meet stone count requirements for the programme. When studying on campus, you will receive tweezers, a 10x loupe, a pointer probe, plotting pens, a gem cloth, a table gauge, a crown angle card, a colour grading card and a lab manual.
The program combines remote and on-campus learning modes with total clock hours of 210 instructional hours and a calendar duration of 12 weeks. The remote learning mode is scheduled for 3 days a week from 9:00 a.m. to 12:30 p.m. for 8 weeks; and the on-campus learning mode is scheduled for 5 days a week from 9:00 a.m. to 5:00 p.m. for 4 weeks.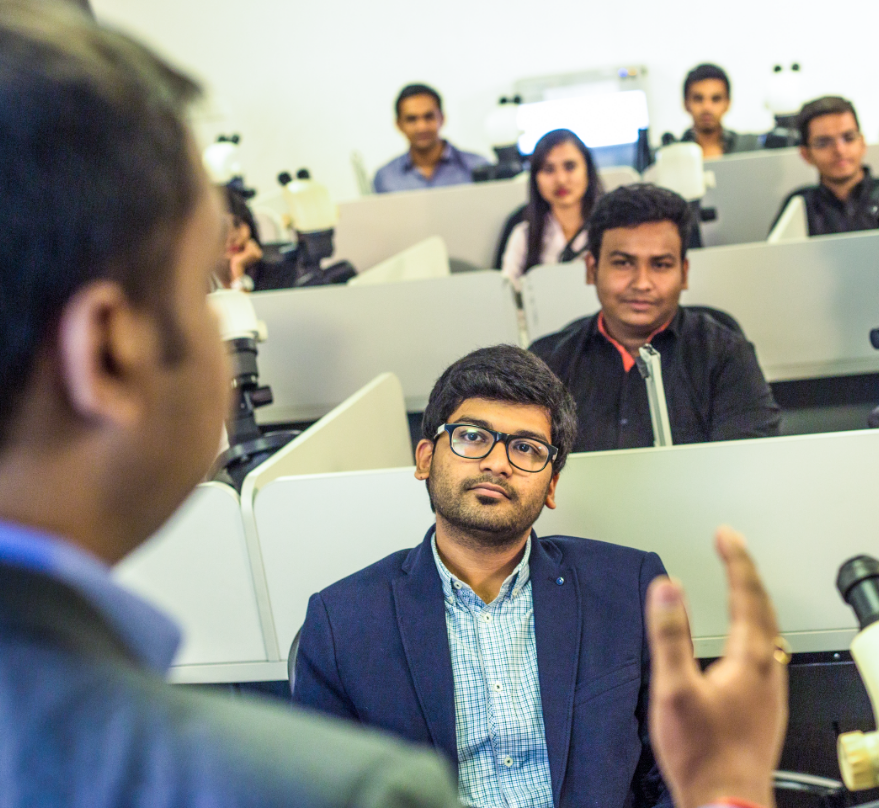 What Will You Learn
Develop hands-on experience with the GIA International Diamond Grading SystemTM and the 4Cs of Diamond Quality (Colour, Clarity, Cut, and Carat Weight), and explore how they affect diamond value
Grade diamonds in the D-to-Z colour range
Detect laboratory-grown diamonds, treatments, and simulants
Recognise when advanced testing is required
Possible Career Paths
Auction House Jewellery Specialist
Diamond Buyer
Diamond Sorter/Grader
Jewellery Business Owner
Retailer
Wholesaler
Frequently Asked Question
The applicant for GIA courses should have higher H.S.C. or equivalent to 10 + 2. Also, all courses are conducted in English language only. Hence, proficiency in English language is required. All applicants must be at least 18 years of age.
GIA education offers a foundational knowledge in gem and jewellery, as it is designed to meet the needs of all types of learners. Many of our students do not have any background in the industry, yet they successfully completed the programme and have flourished either by starting their own ventures or working for established names in the industry.
The Graduate Diamonds diploma program examines the technical expertise needed to grade, buy, and sell diamonds with the insight of a seasoned professional. This diploma program explores the GIA diamond grading procedures to assess the 4Cs - color, clarity, cut and carat weight - and how they affect diamond value. Students use professional diamond grading equipment for the purposes of examining a diamond's quality characteristics to grade and identify diamonds. Coursework also includes creating plotting diagrams; determining fluorescence; and detecting treated diamonds, laboratory-grown diamonds and diamond simulants and recognising when advance testing is required. Other topics covered include the effect of fluorescence on diamond body color, and the role cut plays in the marketplace and important sectors of the diamond industry, including dealers, cutters and manufacturers.
Students are expected to use either a laptop, tablet or a desktop with stable internet connection to attend the programme's remote learning portion. The sessions will be conducted on Zoom. Students will be provided Blackboard access for remote learning course. For ease of accessing Blackboard, it is recommended to have iPad (with version 8 and above) and Windows (version 7 and above). Most importantly, students are expected to keep their cameras on throughout the course; failing to keep the camera on for more than 10 minutes will lead to a tardy.
We do not support offline access of content so you will need to have access to the Internet during the remote learning portion. However, students can download and save videos and PDF files while they are enrolled for the program. Access to the student portal, Blackboard, will be limited only for the duration of the course.
No. The same curriculum is taught at every GIA school, and the same in-class experience is delivered to our remote learning and blended programmes. What differ across each campus location are the class schedules, course offerings, and the number of students per class.
GIA provides assistance to the students in finding suitable industry placements. Companies from the gem and jewelry industry interested in recruiting GIA students approach GIA with their requirements. Similarly, interested students also connect with GIA for support in finding suitable job profiles. Common enquiries are for diamond graders, gemmologists, jewelry designers, and sales and marketing professionals. GIA, however, does not offer any job guarantees.
Upon successfully completing the programme, you will earn the GIA Graduate Diamonds Diploma Program . In addition, you can become a part of the GIA Alumni Collective as well as the global alumni chapters.
Diamonds & Diamond Grading
Judge and grade diamonds by the 4Cs and color.

Equipment & Instrumentation
Learn diamond identification and grading skills GIA graders use.
Treatments, Laboratory-Grown & Imitations
Identify gemstones that have been laboratory-grown, treated or are imitations.

Markets & Supply Chains
Understand how market factors and the supply chain affect value.
About GIA
Established in 1931, GIA protects the public through gemmological research, education, impartial gem identification and grading services, and instrument development. The world's foremost authority in gemmology and creator of the 4Cs, GIA sets the standard for determining the quality of diamonds and performs research-based identification of coloured gems and pearls. All of GIA's activities are governed by its mission to serve the public. Learn More